商品貨號:NEON1
商品品牌:Invitrogen™ Neon™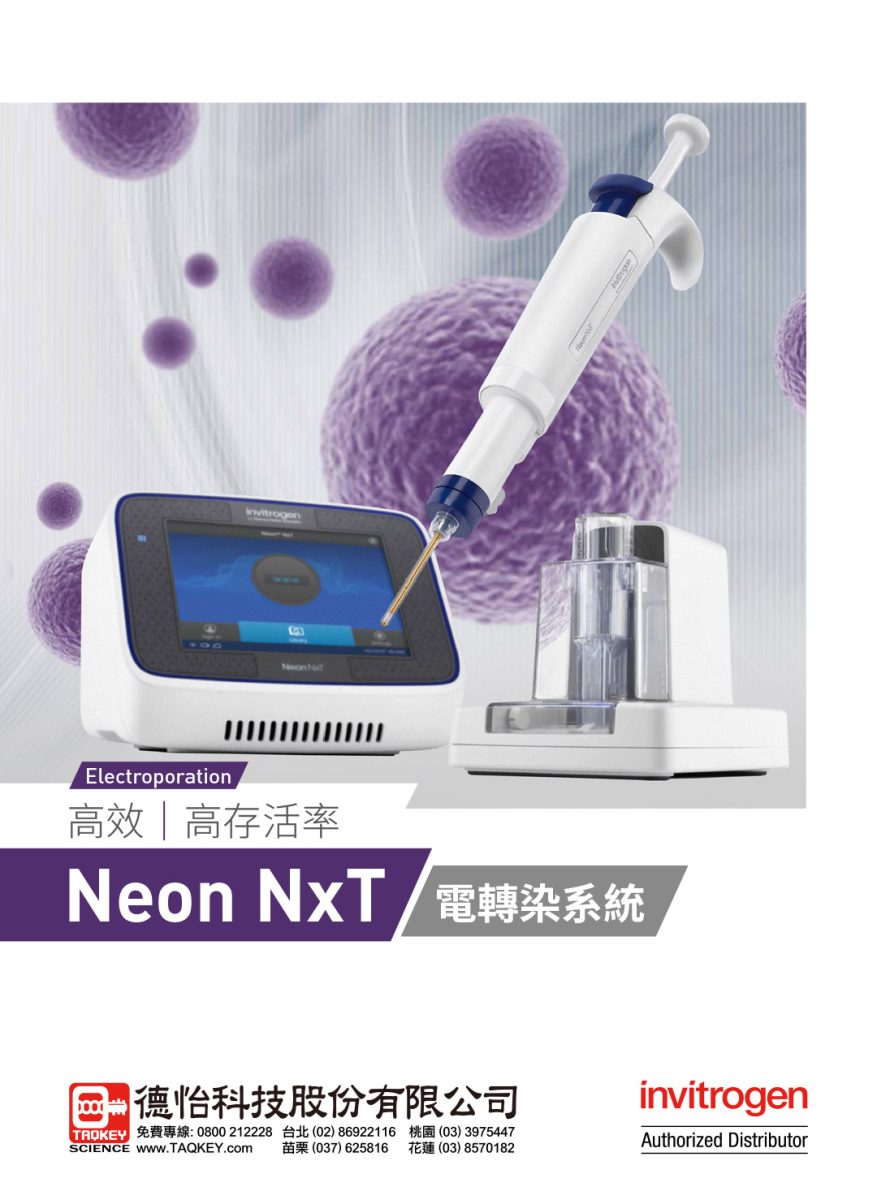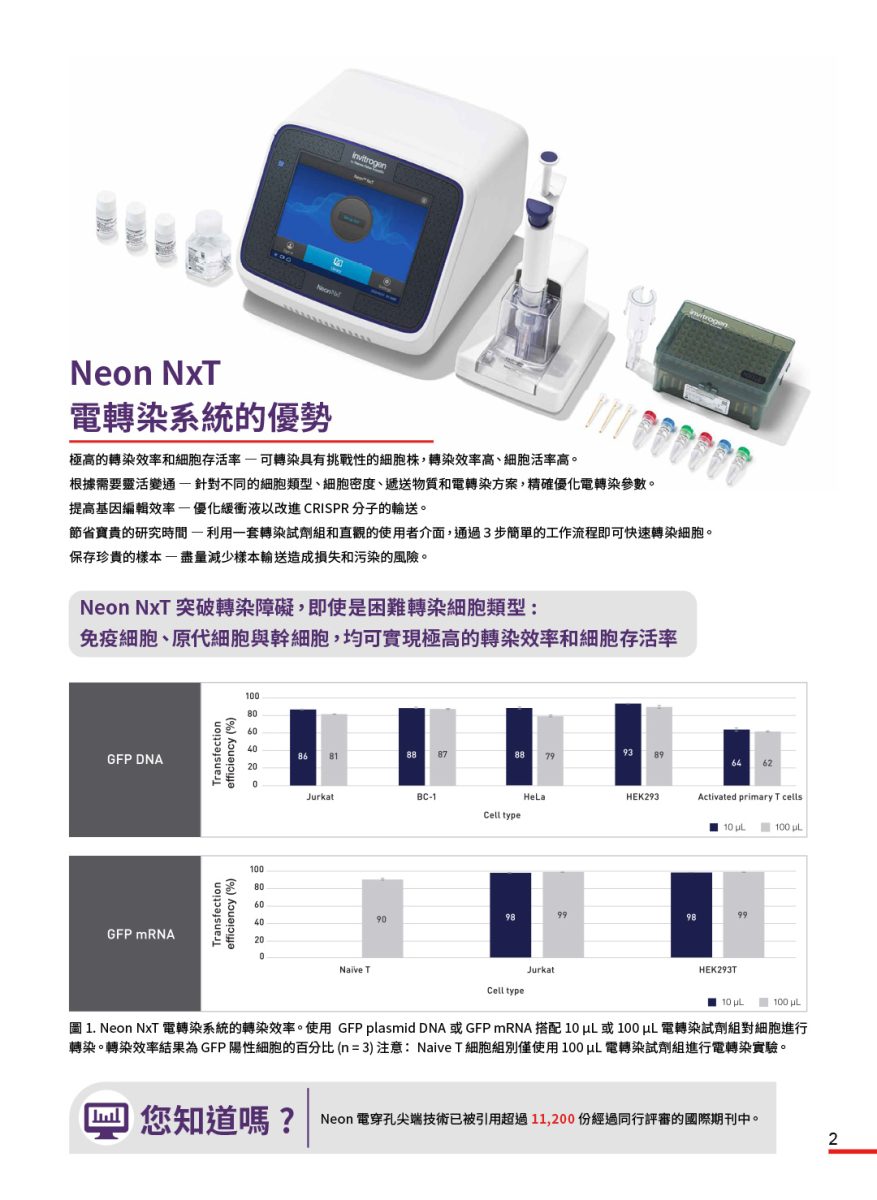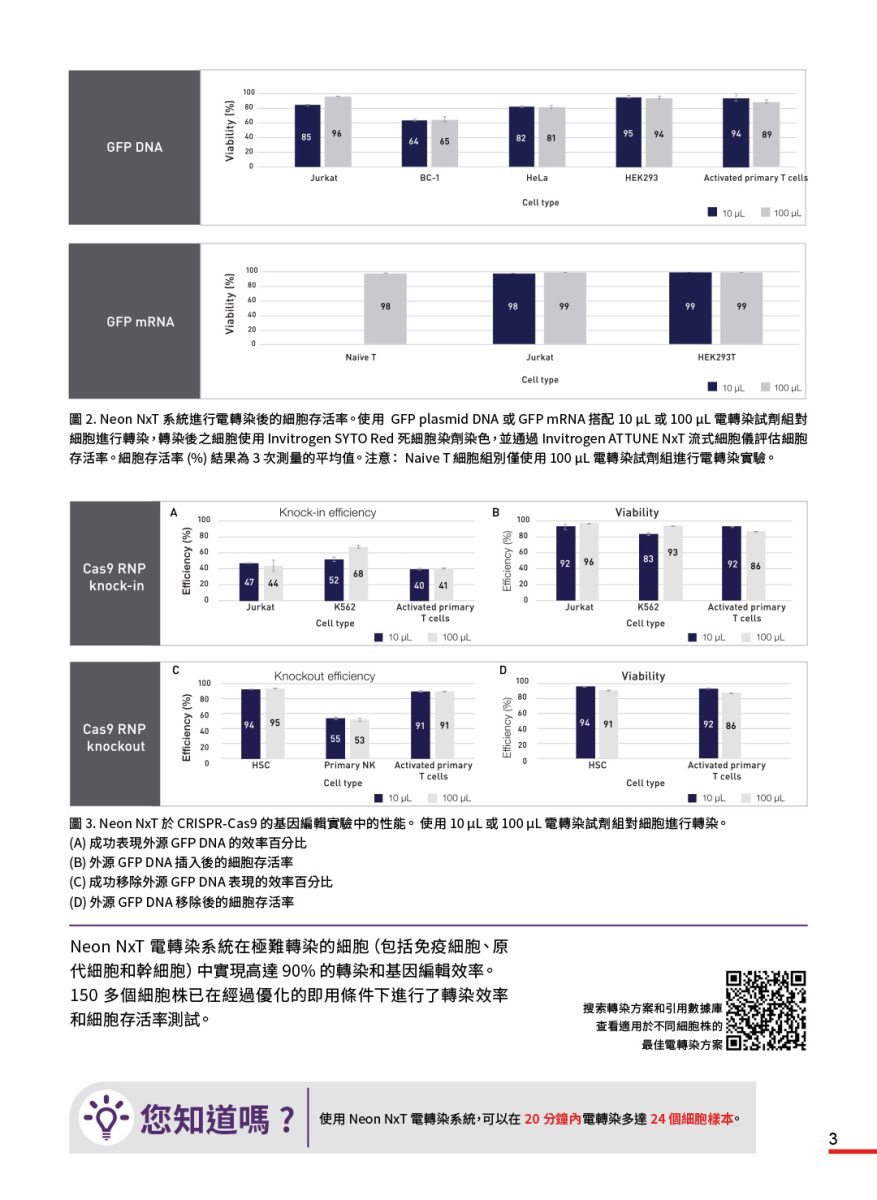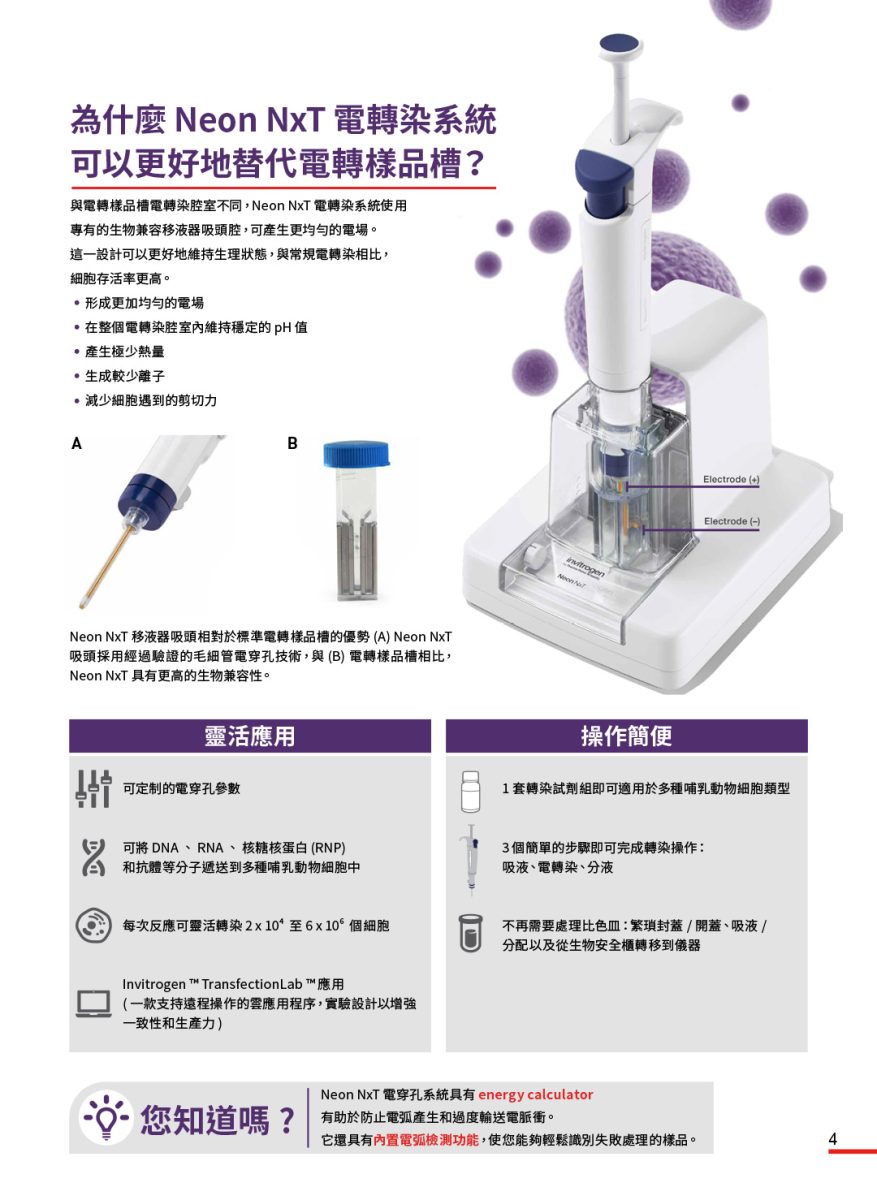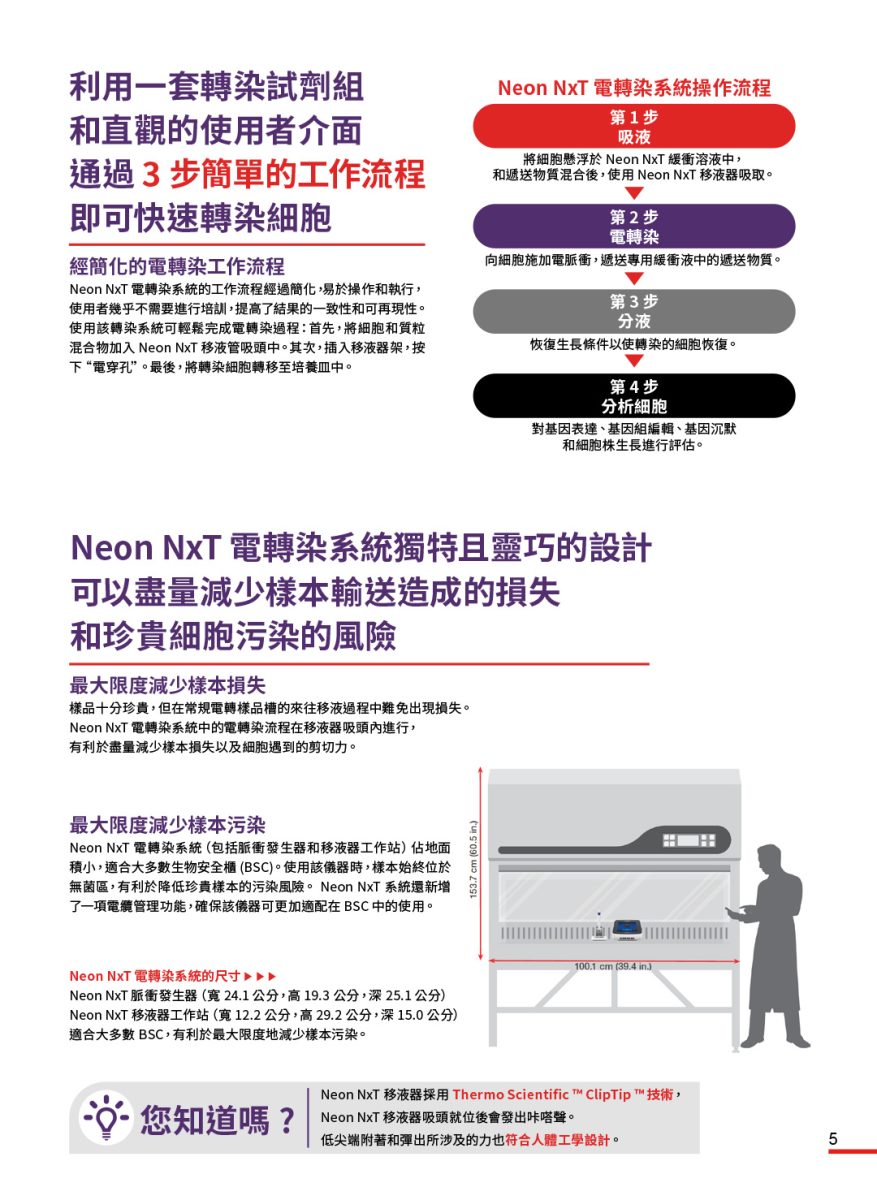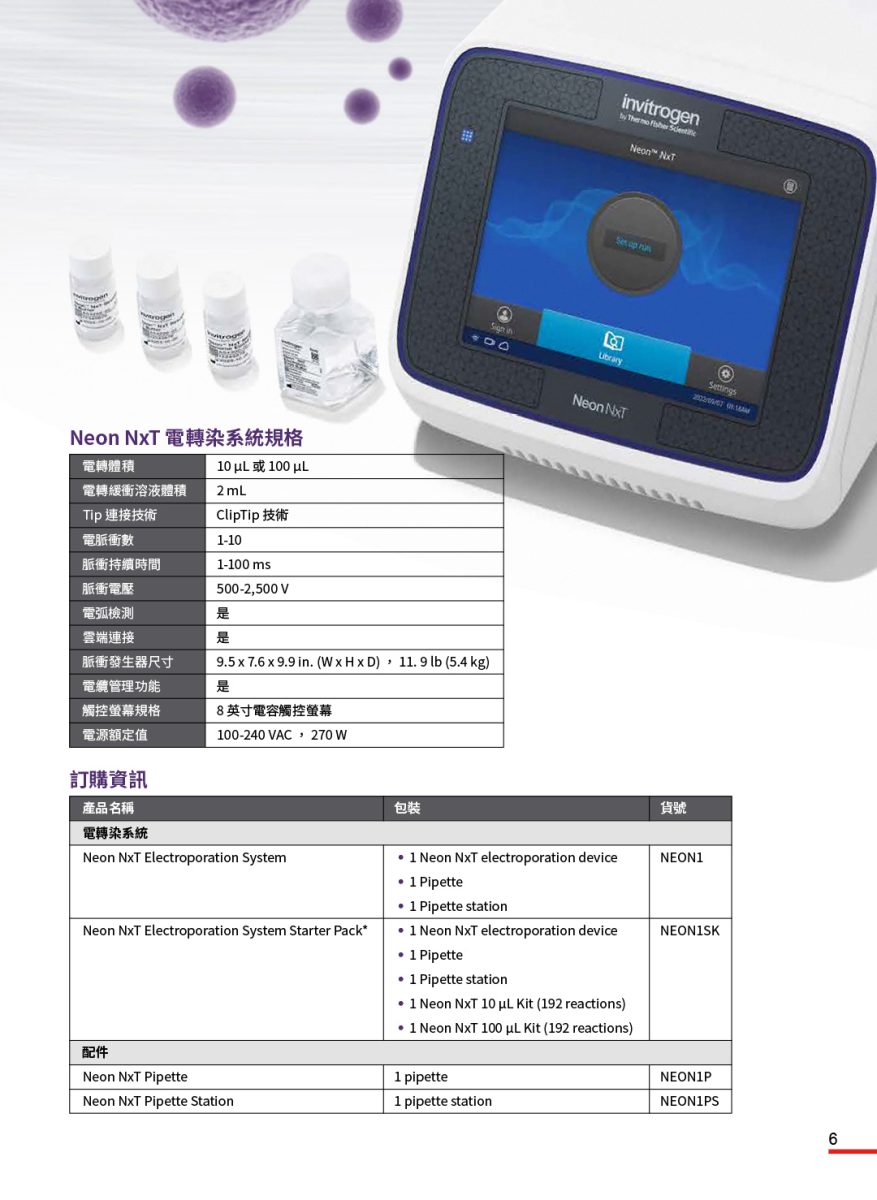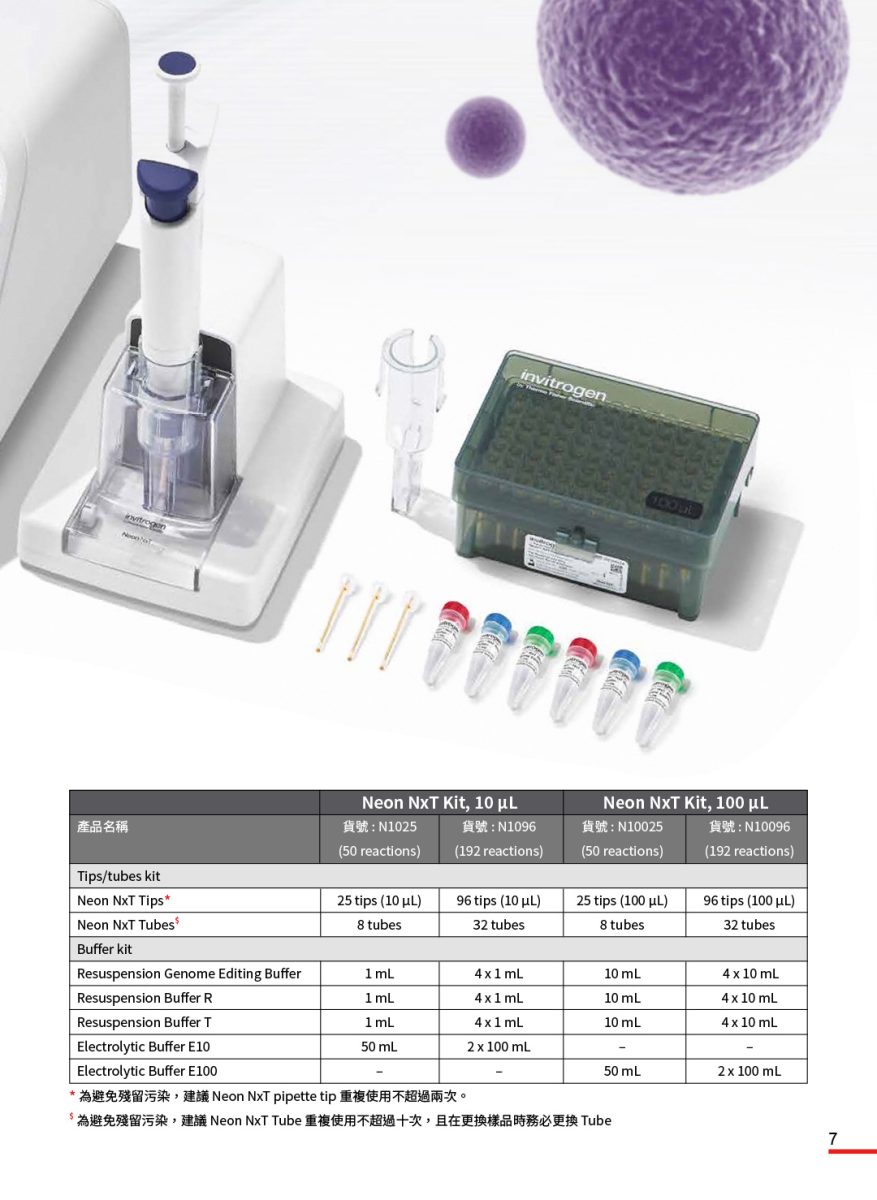 The Neon NxT Electroporation System is a next-generation electroporation platform leveraging the unique and trusted Neon electroporation technology, which increases transfection efficiency and cell viability. The system streamlines the transfection of mammalian cells, including primary, stem, and difficult-to-transfect cells, for fast and efficient delivery of nucleic acids.

Features of the Neon NxT Electroporation System include:
• Proven performance—up to 90% transfection efficiency in many cell types, including primary, stem, and difficult-to-transfect cells, while preserving cell viability with electroporation tip technology
• Flexible—easily transfect 1 × 104 cells to 1 × 107 cells per reaction
• Simple—easy to perform three-step process with single buffer kit for all cell types that includes Neon NxT Resuspension Genome Editing Buffer
• Customizable—optimize electroporation parameters freely or leverage over 400 pre-programmed protocols with ability to save up to 10,000 additional protocols
• Connectivity—Invitrogen TransfectionLab cloud app on Thermo Fisher Connect paired with Instrument Connect allows for digital experiment design and connectivity to Neon NxT system
• Improved usability—improved pipette ergonomics with ClipTip interlocking technology, enhanced feedback loop, and intuitive user interface with plate setup

Trusted electroporation tip technology
Unlike standard cuvette-based electroporation chambers, the Neon NxT system uses a proprietary, biologically compatible pipette tip chamber that maximizes the distance between the two electrodes while minimizing their surface area, generating a more uniform electric field. This design allows better maintenance of physiological conditions, resulting in high cell survival compared to conventional electroporation.

Sample preservation
The unique Neon NxT pipette tip eliminates the need for a separate electroporation cuvette or plate, while the compact design of the instrument enables an easy fit within a biosafety cabinet. Valuable cells are not lost through sample transfer and are at reduced risk of contamination.

Plug-n-play out of the box
The electroporation process couldn't be simpler. Choose Quick Start or set up a plate for an entire experiment, assigning protocols to each well. Aspirate cells and plasmid mix into the Neon NxT pipette tip, dock into the pipette station, and press electroporate. Watch as the selected well on the screen receives a green checkmark indicating successful electroporation; then pipette the transfected cells into your culture vessel.

Perform more transfections with limited or precious cells
Your cells may be limited when you are required to perform neuronal preps or when enriching for homogeneous cell populations via FACS or Dynabeads enrichment. In these instances, reducing the number of cells required per transfection can allow you to perform more complex experiments with your precious cells.

Neon NxT service options

Standard warranty
Each Neon NxT system comes with a one-year warranty. If the instrument requires repair within the first year, it can be sent to our repair center and repaired at no cost to you. Purchasing one of the below extended warranty options would provide the indicated services during the initial warranty period.

Extended warranty options
Rapid Exchange (REX) (Cat. No. ZGEXSCNEONNXT)
If your Neon NxT device requires repair, it can be exchanged for a replacement factory-refurbished device at no additional cost, usually arriving in just two business days.
ABRC Support (Cat. No. ZG03SCNEONNXT)
If your Neon NxT device requires repair, it can be sent for repair and returned to you within 21 business days.
ABRC Support Plus (Cat. No. ZG04SCNEONNXT)
If your Neon NxT device requires repair, it can be sent for repair and returned to you within 21 business days. And while your device is being repaired, a loaner instrument will be sent to prevent any downtime.

Qualification Services (Cat. No. IQOQ A57744)
You can add qualification services to complement your extended warranty service plan. Instrument hardware qualifications for the Neon NxT system include installation qualification (IQ) and operational qualification (OQ) to document and verify that the instrument is installed and operating according to manufacturer's specifications.
IQ provides documented evidence and verification that the instrument has been delivered and installed according to manufacturer's specifications.
OQ provides documented verification that the instrument subsystems are operating as designed and verifies that the functionality of an instrument meets the manufacturer's operational specifications.
IQOQ is recommended at installation, after moving the instrument, after software or hardware upgrades, and after critical repairs. Our qualification specialists will partner with you to deliver timely, cost-effective, and trusted qualification services that include reliable, audit-style documentation.